About the 'My Jazz Life' Six CD Set.


A unique documented history of the life and times of a jazz player in Australia. The autobiography of the distinctive pocket trumpet and flugelhorn player Keith Hounslow. The Title of the Six CD set is My Jazz Life 50 Years of playing Jazz in Australia.
Why is it unique? Because it take the form of an Aural account on compact disk. It's an autobiographical history of Keith's life and Melbourne Jazz history as lived in those times including the music and musicians Keith has played with. The multi-pack is a collectors item in its own right, representing a hardcover book when folded. There are two CDs tucked into each of the three folds. An informative booklet is included with stories and comments plus a detailed discography and personnel listing of the 63 music tracks. In all over 7 hours of Jazz history in words and music. The multi-pack is covered in an historically significant black and white photographic montage along with written commentary on Keith by Jazz luminaries such as Roger Bell, Vince Jones and Adrian Jackson. Graeme Bell adds his spoken support along with many other Australian Jazzmen in the recorded autobiography.
My Jazz Life was written and produced by Keith Hounslow.

The first two disks in this set contain a chronologically ordered, cleanly scripted jazz life, well read by veteran broadcaster Ian Neil and highlighted clearly and with great wit by Keith. The text is liberally spiked with edited fragments of jazz and swing music from both the American Classics and from private local recordings; and taped phone conversations with old colleagues containing a wealth of amusing anecdotes and personal experiences. As I've hinted above, these are living sounds and images that are not always fully accessible within the pages of a printed book; as you listen to these CD's in a sense you are privileged to become part of this vital and virtual time capsule!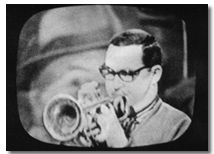 Although memories can distort with time, collective recollections can often be used effectively to verify that certain jazz events occurred and that certain performers were present at the time - even if informants sometimes put a personal spin on the memories that may be hotly disputed by others. In the present case, Keith has selected taped memories and anecdotes particularly well. To this is added a number of tributes from musicians with whom he has played over a 50 year career. The overall impression is of a man who is both modest and self-effacing , and yet fully aware of his own place in Australia's Jazz History. He is a person with strong opinions that are clearly expressed yet totally lacking in rancour, and he is generous in his praise for most of his contemporaries. Above all he exudes on record that same ingenious charm that is so evident in real life although he is not above a bit of good humoured grumpiness from time to time.
The first CD takes the listener briefly Keith Hounslow's early days in his home town of Perth Western Australia then segues to the Jazz excitement of the late '40s and early '50s, with most of the Jazz action taking place in Melbourne and Adelaide. This was the time of the early Jazz Conventions, performing with the legendary bands of Graeme Bell, Frank Johnson, Tony Newstead and Dave Dallwitz, as well as Hounslow's own All Stars and Jazz Hounds. At this time the white traditional jazz revival, simulated by a black revival in New Orleans, was in full swing throughout the western world. In 1949, there was a timely visit to the Australian Jazz Convention by ex- Ellington cornet player Rex Stewart. He befriended Keith and had a profound influence on the young trumpeter's style which can still be identified in his playing today. I believe that the visit also helped to curb (if not actually stop) racist attitudes to black jazz musicians that had prevailed in Australia since the expulsion of Sonny Clay's Colored Idea in 1928, and was never far from the surface during World War 2.

By the 1950's, Hounslow and some of his fellow traditionalists were looking for new challenges in their approach to music. This tendency wan not unique to Australia; in England for example, excellent musicians who had been leaders in the traditional field, players of the calibre of Humphrey Lyttelton, Sandy Brown , Al Fairweather and Bruce Turner, were moving into small band swing ( or mainstream as it was called ) and some even crossed the border into bebop. Hounslow clearly explains his need to make stylistic changes at various times in his career. Chance and change are fundamental elements in the work of creative artists - they are a way out of stasis and stagnation, yet all too often the fans, most of them totally laking in musical competence, not only fail to accept such change with tolerance but, as Hounslow notes, are rarely the people who put bread on the table. Little has changed at the end of the century!
On CD 2, Keith Hounslow continues to describe in detail the Melbourne Musical scene of the 1950s, especially some rambunctious nights at the Musicians Club, life as a trumpeter in search of yet another gig, and his early flirtation with dancehall professionalism (six months as a hot player with Frank Coughlan's band ), in spite of his limitations as a sight reader. This was a time of legendary musicians, picaresque gangsters and Runyonesque street characters. It was also a time when Hounslow moved inevitably towards modernism, first in a mainstream band led by tenor saxophonist Splinter Reeves and then the remarkable partnership with saxophonist Brian Brown at Horst Liepolt's Jazz Centre 44. At the same time, Keith Hounslow sought a regular job in advertising and later became a respected freelance film director. Indeed, during the 1960s Keith almost disappeared from the Jazz scene, concentrating on his day job and raising a young family.
Keith was, and is, known as a constantly self-critical performer, a perfectionist. Like some of Australia's finest jazz musicians he can comfortably and competently move back and forward between styles. In the seventies he came back to traditionalism, recording with the commercially sponsored showband, the Datsun Dixielanders, and (despite Keith's well stated objection to the Banjo) for seven years was a member of Frank Traynor's very popular and professional Jazz Preachers. While with Traynor, Keith also met the young pianist Tony Gould; together they formed the free improvisational group McJad, an exceptional duo which toured and recorded for about 6 years, culminating in a critically acclaimed visit to India in 1982. Piano-Trumpet duos have a long and highly regarded history in Jazz, as far back as the beautiful rendition of Weatherbird Rag, recorded in the 20's by Louis Armstrong and Earl Hines. I believe that Hounslow and Gould's work in this difficult mode deserves the same recognition.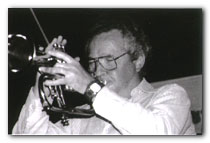 Eventually, Keith moved to Sydney and then down to Kiama on the NSW South Coast, by then working with some of the best modern and mainstream musicians. He was still freelancing as a director but becoming disenchanted with ever-changing technologies and eventually left film-making behind him. I remember seeing him playing around Sydney with a wide variety of bands at that time. His preferred Instruments were the pocket trumpet, often played muted, and the flugelhorn. Always looking for new musical directions he put together one of his finest bands, Keith Hounslow's Jazz Makers., basically a quartet with Graeme Conlan (guitar), Deiter Vogt (bass), and Jimmy Shaw (drums) , each one a superlative player, occasionally adding saxophonist Paul Williams. The public and recorded performances of this band exemplify some of the best moments in mainstream to modern jazz in Sydney over the past decade.
I thought it was appropriate to deal at some length with the autobiographical part of this important collection. The 63 music tracks are a compilation of Keith's music sourced from acetates from the 40s and 50s; 78s cassettes and LP's. His more recent work has appeared on CD.
In this admirable selection, CD 3 takes in the 40s & 50s, CD 4 bypasses the woodshedding 60s for the musically productive 70s, and CDs 5 and 6 are devoted largely to Keith's recent Sydney based groups, but also contain two long and quite exquisite performances recorded with McJad on the tour of India, and two appearances with the Ted Vining Trio, a leading Melbourne band. The transfers are all of good quality and the recording times per CD are very generous ranging from approximately 69 to 75 minutes.
Toward the end of his autobiography (it finishes in 1997), Hounslow indicates that he has retired from jazz, yet so too have many other great Australian musicians, including Graeme Bell. But they don't have a habit of coming back. To my mind, Keith Hounslow is one of Australia's finest jazz musicians ever. He is an innovator, an infinitely creative artist; and just like Graeme Bell he can still be heard playing from time to time in Sydney and Melbourne. For, when you come down to it, what musician, writer, actor or painter ever really retires? In celebrating and sharing his life in jazz with you and I, Keith is also celebrating our commitment as listeners to a living albeit minority music and, at the same time, recording a substantial slice or Australia's jazz history for future generations to enjoy and build on. The set ought to find a place on the shelf in all secondary school libraries, in conservatories, and in music libraries throughout the nation.
Peter Newton. Sydney. Freelance Editor/Writer and Secretary of the NSW Jazz Archive Inc.

Now Listen to some Sample Tracks from My Jazz Life!
You need RealAudioPlayer to hear the following samples. If you have it just click the links to listen..
From Disc 1 - The Second Australian Jazz Convention - 1947
From Disc 2 - Keith speaking about inspiration.
From Disc 3 - The 40s and 50s. "Careless Love Blues" Traditional - Keith Hounslow's All Stars - 1947 (2:48)
From Disc 4 - The 70s "Oo-Roo Boddil" by John Sangster (3:01)
From Disc 5 - The 80s "Milestones" (Miles Davis) Ted Vining Trio,Keith Hounslow and Ian Chaplin. (6:11)
From Disc 6 - The 90s "In My Solitude" (Duke Ellington) (4:16)
To Order the My Jazz Life 6 Cd Set contact Keith.